There are many good charities, many helping hands around and just one Big EVENT during October. One more time, I feel proud of being part of the solution and... I'm not alone! There are many like you and me supporting the Breast Cancer Awareness month, one way or another. Personally, there is nothing more rewarding than knowing I became an avenue of hope. Visit these generous e-stores today and... keep doing good, feeling pretty. Love, Rosie :)
Ps: this post is dedicated to my 'incredible' grandma, who passed away this morning. She will always be my Avenue of Hope...

Fannie May Pink Mint Meltaways -

In support of Breast Cancer Awareness Month, the expert confectioners at Fannie May have dressed their mouthwatering Mint Meltaways® in bright pink. An unforgettable combination of smooth mint chocolate centers and creamy pink pastel coatings, these delicious treats arrive with a pink ribbon attached to the lid. 10% of the proceeds will be donated to several Chicago organizations that support Breast Cancer Awareness and all donations will be matched by the Coleman Foundation.

Box includes approximately 54 pieces and measures 1.25"H x 5.25"W x 10.25"L. Kosher-Dairy. $18.99
Riedel Pink 'O' Stemless Champagne Glasses (Set of 2) - Supporting breast cancer awareness, these are the first stemless champagne glass of its kind. The Pink Champagne glass differs from the standard Riedel 'O' stemless wine glasses as it sits on a ribbed hollow pedestal and the bowl is an elongated tulip shape. The deep pink hue at the base creates the illusion of softly tinted sides.
The Riedel Pink 'O' Stemless Champagne glass toasts the drink of celebration and the courage of the women who face breast cancer every day. 15% of all proceeds will be donated to the Living Beyond Breast Cancer Foundation.

$21.95


Avon Breast Cancer Crusade Foot Works Sock Set - Soften feet while you sleep with our crusading duo - NEW Foot Works Overnight Treatment and Crusade Socks. Apply the overnight treatment to hydrate feet, providing 24-hour moisturization. Helps to heal ultradry, rough skin, and to reduce buildup of rough, hard skin. For extra hydration, cover feet overnight with our Crusade Socks. 3.4 fl. oz. Socks are white cotton/nylon/spandex with pink trim. Machine washable. Fit's women's sizes 9-11. Imported.


100% of the net proceeds ($5.10) are donated to the Avon Breast Cancer Crusade. Your purchase of this product supports access to care and finding a cure for breast cancer.

$7.50

Walk. Run. Empower - Encouraging women everywhere to take part in events that empower themselves, this inspiring figurine touches the heart of all those affected by breast cancer.

A portion of the proceeds benefits the Y-Me National Breast Cancer Organization.

$37.50
eBags Pick Pink Simple Slim Brief -

Support the drive to cure breast cancer! Buy this Pick Pink 17" Laptop Case and eBags will donate 10% of the retail sale price to The Susan G. Komen Breast Cancer Foundation.

This case is perfect for when you need to travel light, or want to add Laptop protection to a tote or brief. $29.99
Pink Ribbon Ballotin - RICHART gets involved in 2006 Breast Cancer action.

In order to support this cause, Michel RICHART has created an original chocolate.

$33.00


Champion Women's Survivor Pink Cotton Jersey Zip Jacket - 8.5-oz. cotton jersey. Washable. Low shrinkage. Ideal for outdoor sports and fitness. Perfect gym coverup, too. From our collection of Champion sportswear, exercise clothing, and workout wear. Imported.

Wear Champion sports bras and sports wear from our Champion Survivor Pink ™ Collection. The pink ribbon logo shows you care about breast-cancer awareness and survival.

$30.00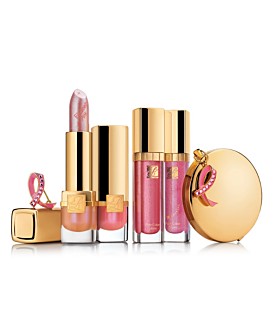 NEW! Estée Lauder Pink Ribbon Collection 2006 -

Wear pink--it's the color that's made for you. And your mother. Your sister. Your daughter. Your girlfriend. Your wife. The Estée Lauder Companies' Pink Ribbon Breast Cancer Awareness Campaign is dedicated to raising awareness that early detection of breast cancer greatly enhances the chances of survival. Help Us Win This Fight. Estée Lauder will donate 100% of the net proceeds from the sale of our exclusive Pink Ribbon 2006 products to The Breast Cancer Research Foundation, dedicated to preventing breast cancer and finding a cure in our lifetime. To learn more, call toll-free 1-866-FIND.A.CURE or visit www.bcrfcure.org Think pink. Buy pink. Wear pink this October. And together we will win this fight.

From $15.00
More TB 'Think Pink' editor's picks, click here!